Super Moderator
Staff member

The European arm of
Hanspree
is showing off an Android Tablet As shown below and referenced in both a news release and as published on
Electronista
. The Tablet will be a full featured unit running a dual core processor and the 10.1 inch screen. It will be running Froyo (2.2). No indications as to upgrade plan to Gingerbread (3.0). With the described NVIDIA's Tegra 250 chipset and the dual-core 1Ghz A9 CPU, it should be able to handle 3.0 with its 1024x600 screen.
The mass of 770 grams (1.7 lbs) is a bit hefty for a tablet. Although that is approximately just 45 grams (1.5 oz) more than a basic IPad.
The unit has a light sensor, accelerometer, 16GB of storage, microSD memory card slot, Bluetooth, 802.11 WLAN and both mini-HDMI and mini USB connection. There is also the typical microphone, speakers and headset jack . Missing in action are a 3G connection and a camera of any type.
The unit will be directed towards a German and European market with a expected price of about $500 USD (~350 Euro) The delivery is scheduled for November which indicates a Christmas market delivery.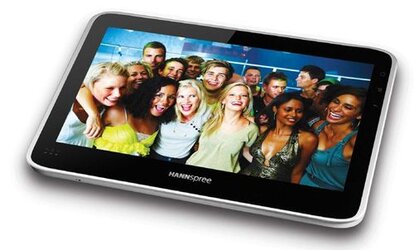 Read more:
Hannspree intros dual-core Tegra tablet with Android | Electronista