Administrator
Staff member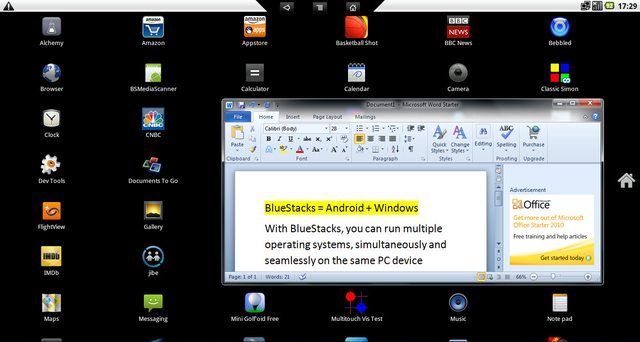 BlueStacks
is a new software solution that allows Android applications to run on Windows. While you can run already Android applications in a virtual machine on Windows, current implementations are slow and cumbersome to use. A beta of the software is
expected in June
, according to a tweet by their Twitter account.
Linux also is on the roadmap
, and
Mac OSX
may possibly be involved as well.
Their mission
is to 'bring your favorite Android apps to your desktop or notebook PC.'
In the demo on a
28-inch HP TouchSmart PC
shown to
Slashgear
, the software showed the capability to not only multitask seamlessly between Android and Windows applications, and also using Windows drivers to handle tasks from Android apps such as video chat and printing. You could also minimize Android applications to the taskbar. The software only currently handles applications up to Android 2.2, which is not exactly ideal, but could look to change sometime in the future. The release of the software is planned for later this year.
While we probably wont see the official Google apps such as the Android Market in shipping versions, this is an intriguing implementation. However, the Amazon app store is expected to work.
Android is vastly superior to Windows for touch and pen based interactions. BlueStacks is also negotiating with PC OEM manufacturers to include their software in new shipping devices. Android on x86 platforms has been painfully slow, despite recent pushes by both Intel and AMD to join the Android movement. This hybridization of Windows and Android functionality provide an alternative that will result in the best of both worlds.
Slashgear
is expected to upload a video sometime today of the software in action. As a Windows tablet PC (
Lenovo Thinkpad X200T
) user myself, I am quite excited by this development.
BlueStacks does not have much on their webpage, but they have a
Twitter account @bluestacksinc
and have been quite active there.
Source
Slashgear
via
Downloadsquad
via
Reddit