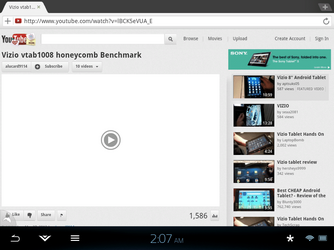 The video I was trying to watch in the broswer was replaced by a white screen with a play button and it always shows up on my honeycomb VTAB1008 in about 2 1/2 minutes when I try to watch the 9 minute youtube video at:
Vizio vtab1008 honeycomb Benchmark - YouTube
And if I watch it close there is plenty of data buffered up yet the video still freezes and then it turns into what you see in the screen capture at the top of this post.
And my Gingerbread VTAB1008 never has any problems with any youtube video anywhere.
One other thing I've found out is if my internet connection is very slow and the Honeycomb VTAB1008 has to stop to buffer data then it will play youtube videos to the end so make sure when you try to watch the entire video above that:
1. You are using a browser and not the YouTube application.
2. Your Internet connection allows you to watch the above video without stopping to buffer up data.
So do you run into the same issue I do if you try to use the Browser to watch Youtube videos?
Thank you for your input/answer.
Last edited: