Recently a tablet manufacturer has release an iPhone 4 appearance Tablet PC,But impossible the OS not the iOS ,It's Android 2.1,use the TCC8902 project.The configuration without any wonder,But the appearance really amazing,further this tablet PC with a 7" capacitance screen and the screen resolution is 800×480 support 5 points multi-touch.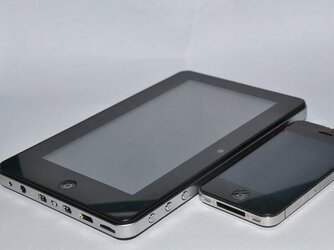 At first let's take it compare with the iPhone.Although the ports buttons site and functions different,but the design style just like the twins.Mirror surface screen roundness Home button metal escutcheon edges and corners obvious,you can find the iPhone 4 design annotation complete at this 7" tablet PC.Because of the material quality's reason this Tablet PC's weight beyond the most of 7" Tablet PCs,it's about 500g,really heavy,it's a little hard to held with one hand.


The back is also like iPhone 4 and use the organic glass.The speaker on rear with the expanded metal,looks very nice.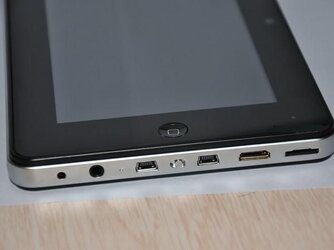 This ports layout we're know well,The TCC89027 project 7" tablet PC almost like this.This one tablet PC use the metal frame look very nice.In addition equip the HDMI output port,you can watch the HD movies with more big display or the TV set.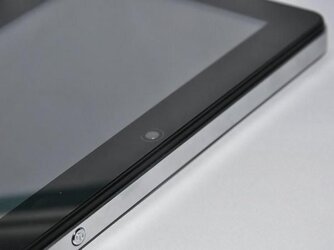 The camera location in the middle,feels not coordinate,but if can use it chat with video is perfect.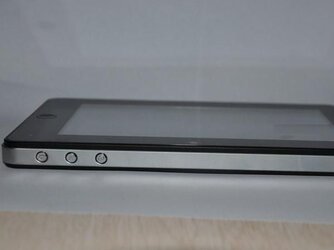 At side you can see 3 buttons,just like the iPhone4,but the function are Back Menu and Power.
This Tablet PC also with 3D acceleration 1080P decode,expandable 3G,but with the
capacitive
screen playing the games is more better feeling.On the side built-in 3000mAH lithium battery,the endurance capability not bad.
Epilogue:This tablet PC the highlight is iPhone4 appearance and capacitive
screen,When you walk on the street with this Tablet PC must be the focal point.
Last edited: