Hi every one! I'm new in the forum. We recently bought 2 Epads 7" Wonder Media WM8650 tablets, and i don't know what models are. They have a green led, black audio port, vibrate, and 4gb memory. I tried to upgrade one of them to a HYBRID_WM8650_UBEROID_1.3.0_v5.7, i followed all the steps, and the tablet got stuck in a " WM8650 Uberoid2.2 upgrade preparing, please wait....." screen. I wait for about 30 min and nothing happend. I tried with almost all the option numbers and have the same result. I don't know what can i do. I't possible to make a rom backup for the other tablet and installing on this one?? I have to wait more time??
Here is a pic for the details of the original rom: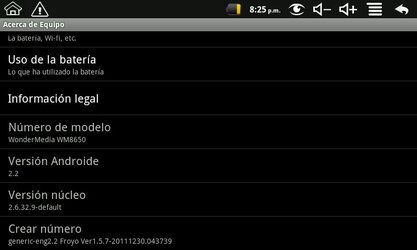 Thanks for the help you can give me, i'm desperate already, i just have 5 days with the tablets....