Hey guys, here is my new game called Squarey. Very simple game for all to play. All you have to do is tap anywhere on the screen to jump.
Game Link:
https://play.google.com/store/apps/details?id=com.NlightenedTouch.Squarey
Description
oor Squarey was playing in his backyard, when he fell into a hole, landed on a small black platform and now he has to jump and avoid deadly hammers for all eternity. This is Squarey's life now, but no sad faces.
This is where you come in and challenge your skills by timing your jumps to avoid those fatal hammers and reach the top of the leaderboard!
This is a simple retro arcade game. It's not as easy as it looks, it's very challenging and addicting. You will get frustrated but you will also have fun and it kills time like no other game out there. No need for in app purchases, items, coins, money, etc...
Instructions: Tap anywhere on the screen to jump!
Enjoy Squarey!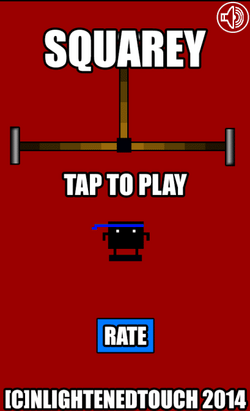 Last edited by a moderator: