Super Moderator
Staff member
Official Changelog For Android 4.1 Jelly Bean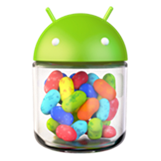 Google has posted up the full, official, exhaustive changelog for Android 4.1 Jelly Bean.
Covering everything from Accessibility to Widgets, the changelog delivers comprehensive explanations of each and every change users can expect to find in Android's latest iteration, as well as changes to Google apps and the "new Google experience on Android," including Google Search and Google Now.
While the raw changelog may not be quite as compelling, it's still a great read for those wanting to explore each and every detail of Jelly Bean.

Android 4.1, Jelly Bean:
Android 4.1, Jelly Bean, is the fastest and smoothest version of Android yet. Jelly Bean improves on the simplicity and beauty of Android 4.0, and introduces a new Google search experience on Android.
- Everything in Jelly Bean feels fast, fluid, and smooth. Moving between home screens and switching between apps is effortless, like turning pages in a book.
- Jelly Bean features improved performance throughout the system, including faster orientation changes, faster responses when switching between recent apps, and smoother and more consistent rendering across the system through vsync and triple buffering.
- Jelly Bean has more reactive and uniform touch responses, and makes your device even more responsive by boosting your device's CPU instantly when you touch the screen, and turns it down when you don't need it to improve battery life.
For full change log: Android.com

Source:
AndroidPolice
​