Senior Member
Supporting Vendor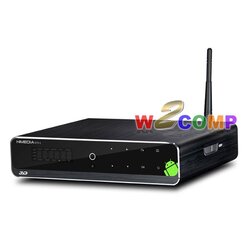 The first Android TV Box with 3D BD-ISO + 7.1 HD audio formats support (DTS-HD, Dolby Digital Plus, etc.) and space for an internal 2.5 "/ 3.5" hard drive! With the latest Android 4.2 version and the Google Play Store, you have access to all your favorite apps. With the specially adapted surface you can enjoy on your TV easy (3D)-HD movies, play current Android games like Angry Birds or comfortably surf the internet.



Model

Himedia Q10-II

Dimension

226 x 180 x 50mm

Net Weight

1 Kg

Material

Aluminium housing design

CPU

Hisilicon 3716C, ARM Cortex A9 1.6GHz, Dual core

Memory

DDR3 1GB

Nand Flash

4GB (2GB for OS, 2GB available space)

Operation System

Android 4.2

Network

100/1000M Ethernet
Built-in 802.11b/g/n Wireless (WIFI) Network Card

IO/Ports

USB2.0 Host*3 (connect to USB devices)
external hot-swap SATA + power interface
USB3.0 Slave (connect to PC)
Composite
Coxial
HDMI 1.4
L/R Stereo
Optical SPDIF Keyboard


Keyboard

Support virtual keyboard, support 2.4G wireless keyboard, fly mouse

Audio

DTS, DTS-HD HR, DTS-HD MA, AC3/Dolby Digital, Dolby Digital Plus

Video

HDMI 1.4a, Full HD 1080p, 3D Blu-ray ISO support

Language

Mulit-Language (including English/Japanese/Russia/Polish/Dutch/Italian/French/German/Korean)

Power Input

DC 5V, 2A adapter included
Powerful hardware
Unlike almost all other Android boxes, which use chipsets primarily intended for tablets, the HiMedia Q10-II uses a dual-core 1.6Ghz HiSilicon 3716C chipset developed specifically for media playback. This results in wider format support, better video playback performance, and great image quality on your TV / projector.
Android 4.2 (Jelly Bean)
The HiMedia Q10-II offers a full installation of Android 4.2 Jelly Bean. This means that you can install and run any App just like with a phone or tablet. This makes the Q10-II a vast improvement on the very limited Apps available in traditional Media Players. It runs absolutely smooth, fast and is easy to use.
3D HD Media Player
Virtually all HD video and audio formats are supported for playback from internal flash storage, USB, SD, or the network. Key modern video+audio formats like MKV, MP4, M2TS,FLAC, MP3, WMA, AAC are all supported. The highlight: the Q10-II is also a 3D Mediaplayer! He supports the playback of 3D Blu-ray ISOs (BD-ISOs) without any problems. Photos can be displayed in high quality on your TV.
Google Play Store (Android Market)
Google Play Store is pre-installed so you can easily download all your favourite Apps. Netflix, Youtube, Twitter, Facebook, Angry Birds, Google Maps, Draw Something are all available in Play Store and work well (**some Apps require optional mouse). Apps not available in Play Store such as Sopcast for Android install from .apk.
Massive Connectivity
Despite the compact size, there are many connection options available: 3x USB ports (eg for mouse / keyboard, USB disk or webcam), 1x HDMI 1.4 port, 1x LAN port, 1x Optical S / PDIF, AV outputs and 1x Micro USB (for connecting to a PC). On the side you will find a SD card port, which is ideal for your images on a memory card.
Full 7.1 HD-Audio Support
The HiMedia Q10-II offers total support for all HD-Audio standards. The Q10-II will downmix or bitstream DTS, DTS-HD MA, True-HD, AC3/Dolby Digital as either RAW or LPCM, and with 7.1 audio selectively downmixed to 5.1 or left alone. Virtually every digital audio format is supported including very high end audio such as 24bit 192Khz FLAC.

Internal HDD Bay
The Q10-II comes in a new, attractive design. The Android TV Box is very solid manufactured and fits perfetly into your living room. A VFD display is installed in the front, where you can always see the current timer of your movie oder music. An integrated hard disk (2.5" or 3.5" SATA) is very quick and easy to reach through a side hatch. No additional tools are required..
Remote App
The Q10-II has many different options to control (USB mouse/keyboard or wireless 2.4Ghz like the Mele F10 / F10pro). A very comfortable way to control is the free Remote Control App (Download to see the support section). You can use your existing Android smartphone to get aaccess to all the functions you want to use. Whether you need a keyboard, touchpad or the motion sensor, it is all integrated into the remote app. You also save an additional remote controller.

Key Features:
•Android 4.2 Jelly Bean OS
•Full Google Play Store (Android Market) Access
•3D movie (3D Blu-ray ISOs) support
•7.1 HD-Audio Support (DTS-HD, Dolby Digital Plus etc.)
•Powerful Hardware (Dual Core / 1GB RAM)
•Internal 2.5" / 3.5" SATA HDD-Bay
•Integrated browser with Flash / HTML5 support
•Integrated WiFi 802.11b/g/n / Gigabit-LAN
•HDMI 1.4a / 3x USB 2.0 ports / Optical S/PDIF / AV-ports
•Smartphone App available / Airplay/DLNA Support
Important Notice:

A. This device does not built-in Microphone / Camera.

B. Even most of the apps of Google Play store can be installed and working properly, but not 100% apps due to compability issue of specified apps to this device.
For more details, please read:
HiMedia Q10-II 3D FULL HD Android 4.2 Media Player, Hisilicon 3716C Cortex A9 1.6Ghz, XBMC
Updated on 13-Dec-2013