Administrator
Staff member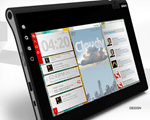 AndroidPolice
is reporting that the
Notion Ink
pre-order is arousing anger due to sketchy return policies, and long pre-order waiting times. The warranty terms are questionable as well.
The Notion Ink isn't any cheaper than the hardware equivalent
Viewsonic G-Tab
,
Advent Vega
, and
Malata Zpad T2
tablets that are all now shipping. With these terrible return policies and long wait times, you might as well grab one of the alternatives. If you have no interest in the fancy interfaces that the Notion Ink brings to their custom Android anyways, you are much better off getting an alternative tablet. When the Notion Ink tablet does ship, you can bet on a port of the Notion Ink firmware onto the equivalent devices, if you are up for that sort of thing.
Even though Notion Ink has now revised their policies once after the initial report, they still look pretty bad. Add the 6-8 week delay in shipping the actual device (end of January, beginning of February). Furthermore, no one has even see a working product yet.
Straight from the words of AndroidPolice. the latest policies:
5% Repack fee
5% "Service" fee (they will charge this to you even if you want a replacement)
3% Restock fee
Notion Ink will no longer reimburse shipping on returns, your return bag will be pre-paid, and the amount deducted from your refund, or presumably billed to you if you want a replacement. (Wow.)
Notion Ink reserves the right to reduce your refund by up to 75% if they find the device has been "tampered" with. Nice and vague.
The full investigation can be found there.
Last edited: