Hi all, I'm new to this forum and I need help.
I got this tablet (Ployer Momo Mini S and really good quality tablet from the look and feel) from a friend.It has 4.2.2 android version, Allwinner A31 Cortex A7 based CPU (4x1.008Ghz), 1Gb RAM, PowerVR SGX544MP2 GPU (info got from CPU Identifier app from google play market), 20.2 cm or 8 inch screen diagonal, Wi-Fi, hdmi output and micro sd slot. It has no Bluetooth or GPS. I attached some screenshot info about this tablet.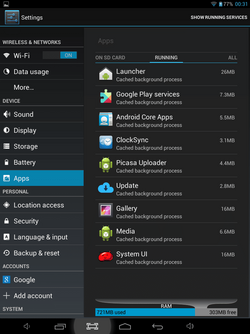 I am trying to find custom rom or to update firmware for this device but I couldn't find anything on the web. And I can't even find this model on
PLOYER-????????????
. I only found this

http://www.slatedroid.com/topic/97866-custom-rom-cyanogenmod-11-442-for-allwinner-a31-by-christiantroy-update-2014-04-19
but I'm not sure is this right rom for my device. I need one that has no chinnese apps, it's simple, fast and low battery usage. My other android device (Samsung Galaxy Ace) has clockwork and custom rom installed but I don't know how to update tablet firmware. So I need this:
1) What kind of tablet is this? (Momo8, or the ones with 7.85" screen or some copy of momo tablets?)
2) Where can I find newer firmware or custom rom (cyanogenmod 11?) and Instructions how to update it?
3) Why this tablet has only 300Mb free RAM even if I'm doing nothing? And CPU Identifier says it has 2Gb module (but only 1024 usable, this is also weird) (This is why I need to try custom rom, better RAM management I guess?)
4) Best android app (device is rooted) to kill all unnecessery tasks or at least show me all of the processes so I can see why almost 700Mb is used when I restart this device.
5) And can I use GPS or Bluetooth dongle on this device (and type)? It can recognize keyboard,mouse and even usb gamepad.
Thanks and I hope someone can help me with this .
Ozy