Administrator
Staff member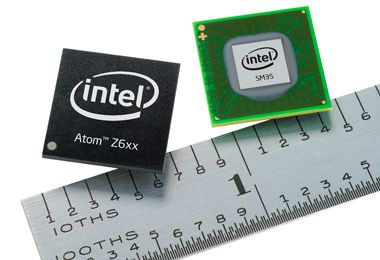 ​
Intel has
formally launched
a
new platform based on the Intel Atom Z670 processor
, formerly known as 'Oak Trail'. The platform comes with official Windows, Meego and Android support. Word on the street is that Intel is working with Google to have support for Android 3.0.
Intel claims to have as many as 35 designs from companies including Evolve III, Fujitsu Limited, Lenovo, Motion Computing, Razer, and Viliv using the new platform. The new devices will become available as soon as May.
What is intriguing is the capability of running both Android and Windows systems on a device, which has admittedly only seen limited success in various implementations.
This announcement came just a day ahead of the
upcoming Intel Developer Forum
in Beijing, China, between April 12-13. It is reasonable to expect new technology showcases inline with this development.
The Z670 platform consists of a single-core 45nm x86 Atom processor at 1.5GHz supporting up to two threads and 512KB of L2 cache and designed to run fanless, Intel GMA600 graphics rebranded from Imagination with support for 1080p video playback, support for up to 2GB of DDR2 RAM, Intel HD audio, SATA, USB, and HDMI 1.3.a. It is unclear as to how this platform will fare against the dual-core Cortex A9 Nvidia Tegra 2 in application performance, despite a more feature-rich graphics processing unit, at least on paper.
Source
Intel Press Newsroom
via
BBC News
Yahoo News
Photo source:
Intel