Jigsaw Puzzles & Dragons Game is an Android game for both kids and adults. The players can choose different levels of difficulty when solving this jigsaw puzzle that is set in a gallery-like environment. After finishing the puzzle, the players can save the picture of their favorite dragon, share it with friends on Facebook or send it via Bluetooth or email.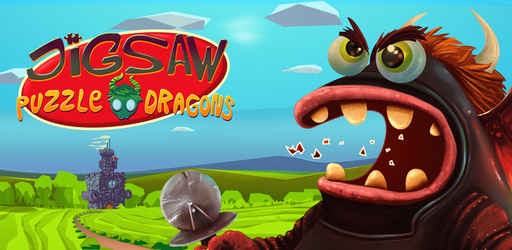 How to play Jigsaw puzzles & Dragons game:
* Download the game
* Press "PLAY" button to start
* In the upper part of the screen you will find the menu in a shape of a dragon`s tale. Available features in that menu are as follows:
- On/Off music sounds
- Choose the language of the game. The game is translated to English, Français, Deutsch, Italiano, Español, Português, Русский, Polski, Čeština, Svenska, Nederlands, Srpski, Hrvatski, Türkçe, 汉语/漢語, عربي, Bahasa Indonesia, 日本語, 한국어, ภาษาไทย, Ελληνικά.
* Choose the difficulty level. There are three levels to go:
- easy
- medium
- hard
* Choose the puzzle you want to solve and click on the picture to shuffle pieces. Move the pieces to the right position to recreate the image
* After you recreate the picture you can:
- save an image on SD card
- set the dragon as wallpaper
- share your favorite dragon on Facebook, send by Bluetooth or email
You can download Jigsaw Puzzles & Dragons Game on Google Play Store for free:
https://play.google.com/store/apps/details?id=com.wizardsgames.puzzlesanddragons