"I have been using Aunsoft
MTS converter
. I am trying to figure out if I can
create/convert multiple clips from the same source MTS file at once
, without having to convert each clip one at a time then go back to the source clip in the edit window and select the next in-and-out point. The source files are long and that's a lot of back-and-forth to get multiple clips. Other than that, happy with the product...."
As one of our valuable customers mentioned above, we assume there are more people have the same need when handling numerous mts shots saved on a camera. As we know, none camcorder or camera intends to save footage in one file only. Generally speaking, nearly all cameras automatically chop footage up into separate files when they hit 2GB or some sizes similar. As a result, back from a travel or concert, it's usual to have lots of separate .mts files stored on your SD card or whatever media you are recording to. What's a hair pulling thing if you have to deal with them one by one - import a clip, convert it to mp4, then import the same file again to convert to mov, or process lossless output without conversion…If you only have one MTS video, it might be okay, but the thing is that you have hundreds of mts files, what to do? If there is no so-called
batch conversion
, how terrible it is!
If that's the case, Aunsoft
Final Mate
is an ideal tool for you to do
batch conversion
. Various software programs are claimed to have the ability to process batch conversion, but regarding to the real batch conversion, Aunsoft Final Mate performs much better (see
Final Mate's 5-Star Rate on CNET
). It not only supports loading multiple files at a time, but also supports duplicating the imported files time and time again for output in different formats. That means you needn't add the same source twice to convert it to one format and then to another. Load the source files once, you are able to process lossless output and convert them to multiple file types simultaneously.
First off, load MTS source clips into Aunsoft Final Mate, then right click on a clip to select your operation, see details as below screenshot showing. No matter you select "New Movie for Lossless Output" or "New Movie for Conversion", a same clip will be copied to the "Movies" panel. If you click "New Movie for Conversion" twice, you will have three same clips in "Movies" panel, which enables you to specify three different output formats for each .MTS clip one after another.

In the meantime, after you checked a MTS clip, you are allowed to "Cut the Clip" or "Split the Clip" to do simple editing on your source recordings. The "Cut the Clip" function cuts the clip into two parts in form (the two parts are still included in one clip), and aims to help user modify different settings, e.g. brightness, saturation, and contrast on the two parts. The "Split the Clip" function separates one clip into two clips, and the chopped part of the video will be displayed in "Movie" panel as well, which helps user specify different settings for the two parts respectively, including choosing different target formats.
To set different target formats for each mts clip, just do as below:
1. After a source MTS file is imported, Final Mate sets it as lossless output by default, right click on the file to "Change Output Type to Conversion", then move to step 2…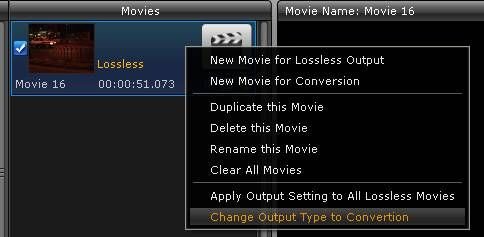 2. Click on the format name, here is "AVI", after that the profile list pops up immediately as showing. Final Mate comes with numerous format presets for your various end uses, from common video (AVI, WMV, H.264, WebM, ASF…) to HD Video, and multimedia devices to professional editing apps, as well as 3D output. Simply select the format you want to convert to for each clip, then as soon as you click the start button to convert, the
MTS batch conversion
is getting under way. That's how Aunsoft Final Mate (see
Final Mate's 5-Star Rate on CNET
)
converts multiple mts clips to different formats at once
.