An aide, a voice assistant and simply a charming girl in
your phone
! Her name is Brainy, and she is eager to get acquainted with you! It is easy, interesting and nice to deal with her. She has just two hands, but she can easily carry out several tasks at the same time. This clever blonde will be your unfailing friend, excellent interlocutor, and an indispensable virtual assistant!
The new version
of your favorite Pocket Blonde features not only
the Blonde herself, but also Mary the beautiful brunette, Mei the enigmatic Chinese and courteous Mike.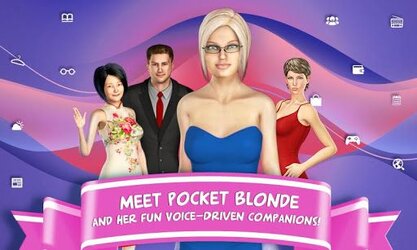 ★
App features
★
:
★ Realistic 3D graphics! Your interaction with the characters has a form of a dialog: they answer viva voce and respond when you touch them as if they were alive
★ Thanks to Wolfram Alpha, all characters can learn new skills. They also learn to understand better what you need
★ Gorgeous outfits and ambience! You can customize your character: to change his outfits to your liking and create an ambience that suits your mood most
★ Useful services will make your life easier than ever! Alarm clock, weather forecast, horoscope, latest news, as well as calls and SMS, reminders, notes and much more than this
★ Increased mobility due to Internet services! Mapping an optimal route using Google Maps and telling about updates in Facebook and Twitter news feeds
★ Entertainment services will not let you get bored! Your assistants will switch on your favorite music, show you most hilarious videos or tell jokes. If you feel extremely lonely, they an even play games with you!
★ The app is available in English, Russian, and Spanish. French, German, Japanese and Korean to be added soon.
It knows no equals among Android apps – JUST DOWNLOAD AND ENJOY!
Latest version=>
https://play.google.com/store/apps/details?id=com.brainyfriends.voice.game.pocket.blonde

Thank you for choosing our app and helping us to make it better!
Spring greetings!