Bought a christmas gift for my daughter and want to transfer video files from my labtop to the tablet for her to watch. Have gone through the following steps:
1. Videos were in .avi format so converted to .mp4 on Any Video Converter (selected output - Samsung Galaxy Tab mp4).
2. Copied and pasted mp4 file from hard drive of laptop to Movies folder of Tablet using windows explorer (got the below message when pasting mp4 file and clicked yes)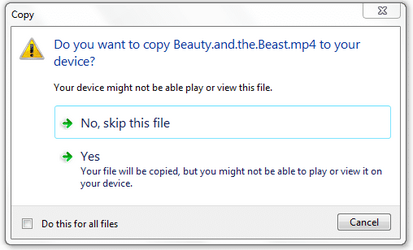 3. Went to My Files folder and navigated to Movies folder. Double clicked on video file and get an error message saying "Cannot play video. Sorry, this video cannot be played".
I have played around for hours trying other videos using the same steps and have even tried software to remove any DRM in the files but to no avail.
I am under pressure to upload movies before Christmas and would be grateful for any help, hips guidance.