Administrator
Staff member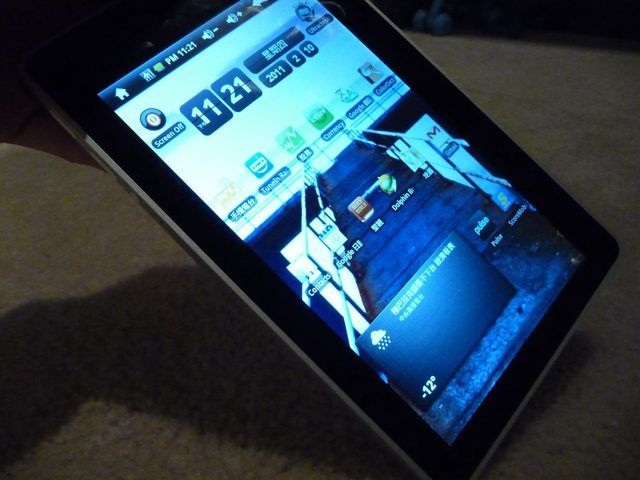 (zeamlauncher in above screenshot)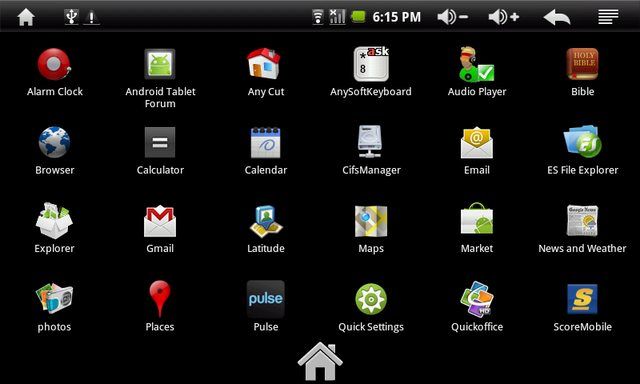 (installed a bunch of stuff on it already)


Description
This firmware is based on the 2011.11.12 shipping firmware of the Rocktouch RT7 tablet (also marked v0.18). It is a pre-rooted system image with major Google Android applications syncing, and workarounds to allow system writes for rooted users. It was created with the intention for an usable firmware that is close to the shipping version. This is Android 2.1.
The tablet is available at HOTMID at the following link:
http://hotmid.com/rocktouch-rt7-mid-rk2818-7-capacitive-touchscreen-android-2-1-wifi-g-sensor.html
It was also reviewed by AndroidSPIN's Simon Walker at the following link:
Quick Look: RockTouch RT7 Android 2.1 7″ Tablet
It is a 7" 800x480, multitouch capacitive shanzhai tablet with RK2818. The backcover is a single white piece of plastic with 3 slits for the speaker, and an aluminum frame
The RT7 original firmware was quite clean to begin with.
Version 0.1
This firmware will boot to English by default
Not tested extensively. No support pleaded for this firmware. I am not responsible for what you do to your tablet.
No further firmware revisions or features are planned.
Features
pre-rooted (
Superuser, adb
)
writable system partition mounted to /data (aufs)
lowmemorykiller tweaks (minfree for more aggressive background task killing)
addition of Calendar application for working Google Calendar Sync (
Cyanogenmod 5 D/S
)
addition of Gtalk and Gmail (
LCR 1.8.2
)
addition of QuickOffice for Tablets ported by
XDA
addition of Android GenieWidget News and Weather application
updated Android Market to 2.2.6, Google Maps to 5.1
addition of Estrongs File Manager 1.8.8
addition of compatible cifs.ko in /system/lib/modules to mounting
addition of QuickSettings and AnyCut for access to otherwise hidden features in the firmware
removal of extra picture viewer gallery applications
removal of Rockchip's Aldiko rebranded software
removal of Advanced Task Killer
removal of Fireworks Live Wallpaper
removal of Adobe Fonts designated for Next3 branded tablets
attempt to change permissions on some system files to increase overall security
tablet no longer auto-mounts when connected to computer via USB
disable the use of swap
other minor fixes
cifs and aufs modules were built from kernel sources for
Archos 7 Home Tablet
Installation
Firmware Installation Tool (from
ArchosFans
Wiki via Ramos W9 Upgrade Tool):
Multiupload download
Download:
Multiupload download
MD5: 2F967B4435A9277798536B722D79F560
This firmware package comes with bootloader 5.02.
Run RKAndroidBatchUpgrade included above. To enter firmware download mode, you need to ensure that the tablet has been powered off complete. Then while holding the menu and back buttons, press the power button and wait till the computer detects the 'RK281X Device'. When the device is detected, the Rockchip upgrade tool will change color. Click the Upgrade button to proceed the firmware flash. The process takes about 2 minutes to transfer, after which the firmware will be flashed within the unit. The overall process takes 15-20 minutes to complete the install. You will lose data when performing this firmware upgrade.
To gain access to Android market, you must first connect to wifi, and enter your Google credentials. There is currently a bug with the Android Market install in this firmware where the Android Market license agreement fails to appear, resulting in failed downloads. In this case, you need to either restart the tablet, or close the Android Market running task (Settings -> Applications -> Manage Applications -> (press the menu button) Filter -> All applications). Google Maps may exhibit the same behavior.
CIFS.KO Windows Network File Sharing Notes
nls_utf8 support is built into the kernel.
Just add iocharset=utf8 as an option
Choose to mount to /flash or some writable directory instead of what is specified by default, or it will not work.
You must insmod cifs.ko by going into menu options.
Append
I actually found some weird behavior with Market not finding anything even though it was connected to wifi. To workaround this issue, simply enable and disable Mobile data (you will need to toggle wifi as well), and this will magically fix Market.
Credit to
naobsd
(fun) for doing all the hard work of getting the tools(rkcrc, rkdump) setup to make this possible!
Also to the
Hvdwolf @ ArchosFans wiki
for the excellent writeup on the RK2818
Seems to work find on other capacitive 7" tablets with similar casings.
I removed RKReader and some associated files because I thought this would save space. But this removes the optimized PDF reading functionality it comes with. I might put it back later if there's enough demand to do so. For now this ROM has been rock solid for me, and I don't intend to change a thing.
Boot.img alone:
http://www.multiupload.com/OJKAF8YLXF
8B1DB0A9B17CB8BF211A2457907431B8