Hi all,
I'm new to this forum, having stumbled across it while searching for a way to get Google Play on my tablet.
I have one a Pendo Industries Pty Ltd. PendoPad 9.7? - Dual Core - PNDPP4MT9G3 Pendo Industries Pty Ltd., which I'm 95% sure is a rebranded Coby Kyros MID9765-8 in Australia.
I'm at a loss as to how to get Google Play on this device, but we'll come to that later.
Having seen that you are requesting firmware dumps, I tried to dump my own, but with no luck. I've tried the dump instructions here:
http://www.androidtablets.net/forum...mps-coby-generation-3-devices.html#post205970
, but I get errors (see attached).
So, firstly, how can I dump my firmware for uploading to this forum?
Secondly, any advice you can give me to push me in the right direction (re: Google Play) would be greatly appreciated.
Cheers!
Tano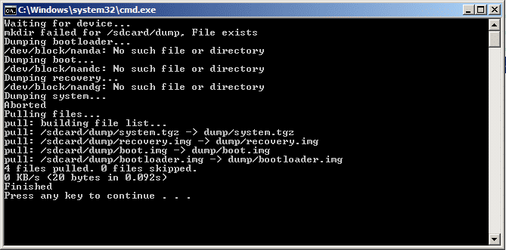 Last edited by a moderator: