Samsung Electronics Co. Ltd., a leading mobile provider, launched developer's hub- 'Samsung Developers'- on Jan. 27th , at
http://developer.samsung.com

Developing an application for a connected device has become a highly desirable project for determined individuals and big businesses alike. With Samsung's hardware an application developer can push the boundaries of imagination while engaging with an audience of millions.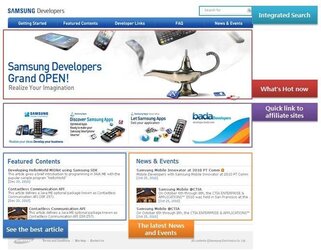 Convergence is the norm, with applications built for multiple platforms and multiple devices at any one time. Software as a service via the internet has challenged traditional distribution methods and the world is waiting for the dust to settle on the key devices launched in 2010. Cloud computing has enabled millions of users to seamlessly live out their digital lives and there are more exciting developments to come. Helping you see through these turbulent times and get your ideas from the drawing board to the customer is Samsung Developers.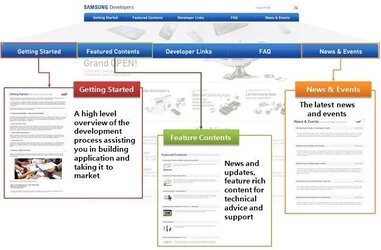 Samsung Developers offers a new destination for developers working with Samsung smart devices, providing news and updates, feature rich content and lively forums for technical advice and support. Samsung Developers draws in all of Samsung's current development platforms, providing a single integrated gateway, the latest SDK's, tutorial videos and both hardware and software updates.
If you have an idea you would like to develop, but aren't sure which steps to take first, why not visit our "Getting Started" guide? This high level overview of the development process will assist you in building your application and taking it to market, whatever your platform or target device. Samsung Developers will continually expand "Getting Started" to ensure you can get your project off the ground as easily as possible.