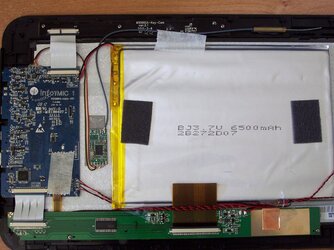 Hello Everyone,
I am hoping I am in the correct forum and that someone can help me. I've searched online with no success.
Problem: Stuck on reboot screen (Android logo). It is on an endless loop and I've kept it on for 24 hours (plugged in of course).
I did use the Android System Recover <3e> (Infotmic system recovery utility). I went thru the menu options, did the "wipe data," "factory reset" and "reboot system now." I actually did the factory reset over a dozen times
and it continues getting stuck on the Android logo loop. Any recommendations?
Ematic EGLIDE 4 XL (EGLXL102B) 10" Internet Tablet Touchscreen
Operating System Version: Android 4.0.3 Ice Cream Sandwich
Model No.: EGLXL102B
As the image indicates, it DOES NOT appear to be a way to disconnect the Battery.
Last edited by a moderator: