It's a plane? Is superman? NO! is God Maniac Bird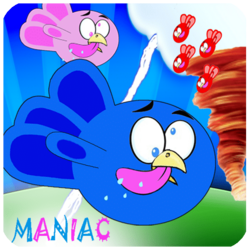 Description:
Maniac Birds has an addictive gameplay that you will return again and again to try to get more and more high scores which you can share with your friends on facebook!
Support Dui and child to avoid being shot down by maniacs Red Angry Birds as pests that terrorize your home!
Playing is free and easy, but mastering it is quite a challenge!
Do you accept the challenge to maximize your reflexes and concentration level?
Play for free with your friends to see who can get the highest score!
FEATURES
* Be rewarded as you progress with medals and coins free and special unlocks Maniac Birds
* Add style and dress your Maniac Birds with more accessories that fit your personality as: Scarves, Glasses, Hair, Hats and Wings.
* Demonstrates be worth owning champions and top scores unlocks God Maniac Bird and sprayed with his powerful beam destroyer Red Angry Birds.
* Available for play on mobile and tablet totally free.
Download HERE:
https://play.google.com/store/apps/details?id=com.maniacbirds.app
Screenshot: