Administrator
Staff member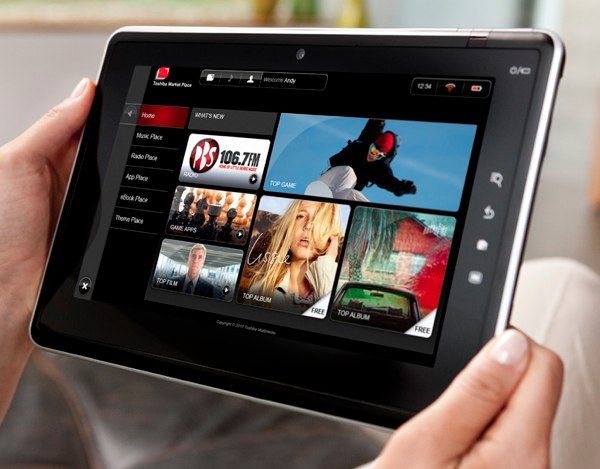 Android Tablets seem to be all the buzz today with information, release announcements, teaser pics and more flooding the Internet. Toshiba has officially announced the Folio 100, and it won't disappoint by any means. Engadget reports the device will launch with a suggested retail price will be €399 or roughly 511 USD. Here's a quick look at the specs:
10.1-inch capacitive touchscreen
1024 x 600
Android 2.2 (Froyo)
NVIDIA Tegra 2 processor
16 GB internal storage (32 GB available SD expansion)
Adobe Flash 10.1
1.3 MP front-facing camera
Mini-HDMI
USB 2.0
Bluetooth 2.1
WLAN (802.11)
Mobile broadband (available Q1 2011)
We just got to handle the Folio 100, after witnessing it bolted to a wall earlier, and we have to admit that it's lighter and thinner than it looks at first glance. Unfortunately, it still feels pretty cheap, and we're not sure how much we trust ourselves one-handing something this large and fragile seeming. Our brief glimpse of Toshiba's custom skin on here was most depressing -- it's not final, but we're not sure why Toshiba is even bothering showing anything in this abysmal state. The bits we've seen of Toshiba's market (for music, apps, e-books and so forth) look a bit better, but as far as we know there's no official Android Market on this thing -- a kiss of death for almost any Android device.
Source:
Toshiba Folio 100 preview -- Engadget