Just in time for the Holidays, Verizon Wireless is going to launch two high-end Android tablets featuring 4G LTE connectivity. The two tablets are very similar with the main difference being the screen size. The tablets are going to succeed the Motorola Xoom and are going to be known as the Motorola DROID Xyboard in the United States and the Motorola Xoom 2 overseas.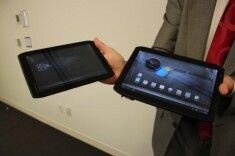 The Motorola DROID Xyboard will be available in a 10 inch model and an 8 inch model. The 10 inch model is described as a business focused Android tablet complete with a stylus. The 8 inch model is more of a media powerhouse tablet with 2.1 surround sound and an integrated subwoofer. Since each tablet differs in screen size, I imagine the 8 inch tablet will be slightly cheaper than the 10 inch model. However, pricing information for both Xyboard models are not yet known.
Both
4G LTE tablets
share several common specs including a 1.2GHz dual-core processor, 5MP rear facing camera, 1.3MP front facing camera, 1GB of RAM, and Corning Gorilla glass. In fact, both tablets are thinner than a AAA battery! In terms of Android, each will run Android Honeycomb out of the box, but I imagine an upgrade to Android 4.0 is in both of their futures.
Verizon is planning to launch both DROID Xyboard models in the United States later this month. At this time, pricing information hasn't been announced, but it should be priced competitively under the $500 price point.