Hi everybody I just got this brandless Android 2.1 tablet as a present, all I know is that is from China...
The box is plain white and on the sides just says:
"Android 2.1 (WiFi - 3G - HDMi - 1080P - 3D)"
that's written just on the sides, I can't find any model or serial number on the box, in the manual or on the device!
When I power up the Tablet on "
About this phone
" tab I got this info:
Model Number: MID
Firmware Version: 2.1-update1
Kernel Version:2.6.29 root@localhost #133
MID 1.2
The Ac Adapter has this on the label:
ADAPTADOR AC: 9vDC 1500mA
The accesories are: AC adapter, MiniUSB (Male) to StandarUSB (Female) Cable Adapter
Please see attached pics.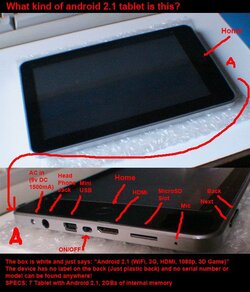 I have no idea of what's inside so I can upgrade the tablet and configure it further.
It looks a lot like some other tablets out there like the aPad or ePad but as you can see in the pics the ports are diffrent so I think it is not the same CPU and chipset.
Hope this info helps!
Thanks in advance!