Woow! Digital Android Tab 7 (
WOOW! Digital:
)
OS: Android 2.1 (-update1-1.0.0) kernel (2.6.25)
CPU: Rockchip RK28board (RK2818) 624Mhz (ARM926EJ-S rev 5) (CPU part 0x925)
RAM: 256Mb DDR2
NAND Flash: 8GB
MicroSD Slot
3G SIM Slot (but does not have built-in 3G, Tab 7 3G does)
Wifi 802.11b/g (Atheros)
HDMI Out
Resolution: 800x480 (7" screen)
USB (with USBOTG/Host mode)
Battery: Li-Polymer 2050mAH
Size: 199mm x 123mm x 15.5mm
Weight: 500g
Touchscreen: Capacitive, Multitouch
Camera: NONE
Price: HK$1650
Hard Buttons Front:
Menu
Hard Buttons Side:
Volume Up/Down
Power
Menu
Back
Build quality is good, nice heavy feel to if. Device is black, the back feels like the iPhone 3G(S), may be available in white in the future (box has an indication for black and white). Runs quite smootly, although sometimes it stutters. Software seems flaky. Could not get on wifi out of the box. Had to turn off, reboot, turn on before it started working. It has happened a few times that it hung and stopped responding until it turned itself off. Although this was only in the beginning and does not seem to happen anymore. Compared to all the other chinese tablets (yes, this device is made by a japanese company, but would not suprise me at all if the company was run by chinese), this one looks and feels a lot better. And for this price there was nothing available that could beat it (most others had resistive touchscreens, no multitouch). Should be 3G ready, so attaching a USB 3G dongle will give you 3G access (untested).
Wifi borks now and then. Reset button doesn't fix it. Factory Default Reset does bring it back up.
For those who do not like the stupid WOOW! logo on the front, it can be peeled off without leaving marks.
When connecting this device to a pc (linux in this case) both the SD Card and the NAND Flash will be mounted. The NAND Flash contains a DCIM directory, but this device does NOT have a camera.
At the moment (dec. 2010) a free fake leather case with a built-in keyboard is offered free when you purchase the device. The keyboard connect to the device via USB (Host Mode). The case also contains a stylus, which is of no particular use.
Used Universalandroot 1.6.2 beta 5 to root the deivce. After using the app once, it said it was rooted, but didn't install the Superuser app and didn't root the device. Soft root option from Universalandroot does work and does install the superuser.apk.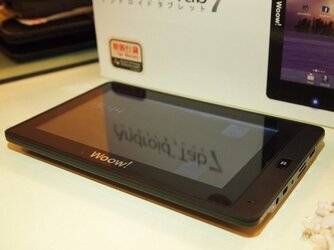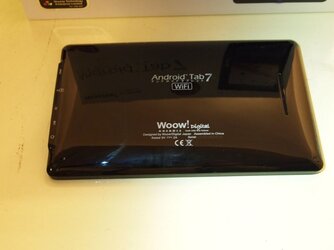 UPDATE1: use zRoot.apk to temp root device
UPDATE2: to enter recovery and flash with pc tools, press and hold VOLUME UP and BACK/ESC while connecting the device to a pc through USB. (this is different from other rk2818 tablets, those mostly work with holding only VOLUME UP or only BACK/ESC
UPDATE3: mtd5 backup partition is empty. so no update.img can be made and woow dicks are not responding to emails asking for the update.img. starting today i am sending them 1 email a day asking for the update image. feel free to help out and fill in the form on their website and ask for the update.img file. even if you don't have a woow tablet =). link to their website is at the top of the post.
Last edited: