Super Moderator
Staff member
Inside:
I work for a company that owns several thousand very popular websites on the internet. Due to legality reasons I cannot say what websites our company owns, or what time frame this traffic occured in. I can tell you that it's 100% verified
United States and Canada
unique visitor traffic, that from time to time, is used jointly by companies such as RealtyTrac, HomeGain, and Realtor.com. What I can tell you is that the numbers below aren't necessarily a large number for our company. To some companies 850,000 unique visitors is just a kick in the bucket. Although this is a number I am comfortable releasing right now
Forward:
The information is gathered across our companies network comprised of various genres such as: real estate, apartments, jobs, mortgage, insurance, vehicles, golf courses, small business information, et al. Our company routinely is contacted by several news organizations/websites to find out real estate, job, and other related data to publish on their shows and/or websites.
Over the last few months I have seen quite a large increase in unique visitors using their Android devices. Android (across our network) has increased the unique visitors by nearly 13% over the last 6 months, which is quite a large increase. Considering iPod/iPad has only increased by 8%.
Kindly view the attachment below, or via this link -
http://www.mediafire.com/imageview.php?quickkey=w5p22o5r6n7ws86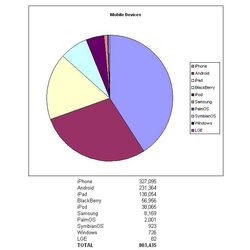 ​
Last edited: