Relaxing music sounds is a radio fm app for all of you who need some anti-stress music. This radio online app has all the meditation music you need!
Google Play:
https://play.google.com/store/apps/details?id=com.nimaxy.relaxingmusicsounds&hl=en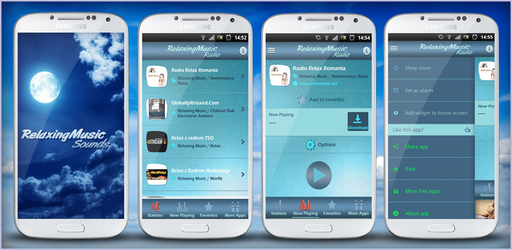 With the help of this free relaxing anti stress music you can create your own at-home spa. Create a relaxing mood with these free online radio stations. Just fill the bath with hot water, and fill up all your senses with this unique relaxing music for spa. Download Relaxing Music Songs now and leave all that stress and drama of everyday life behind you. Relax and enjoy!
Available features:
- Listening radio without headphones
- Set timer to play radio station and sleep timer so that radio station turns off at specific time
- Save or share radio stations on social networks such as Facebook and Twitter
- The widget of the app will appear in the notification so that you could control radio station even when the app is turned off
- Use widget option to set your favorite radio station as a shortcut on your home screen.
- Set favorites to create a list of favorite radio channels for quick access
- Choose 'more' button to research other radio stations
- Set a radio alarm