Super Moderator
Staff member
Hullo to all,
The methodology was inspection of the sample video provided, Google and churn.
I have one of the 256 Mb Varieties of the APad with the supposedly faster chipsets. I will not go there. Bought on E-B like most of us for about $120US.
I use a 4Gb MicroSD and an 8Gb MicroSD as my storage. I ignore the built-in storage.
Now on to the Video. I was tearing my hair out on converters and the best codec. I spent trials with tools I had and suggested. None seemed to work. I tried AVI, FLV, mkv, ogv. and on and various sizes and speed and frames. I could go on
Quite simply it boiled down to using the MP4 format and keeping the rate to about 600-800. The tool I am using is VCK.exe from Android123.com. Quite simply it works
http://down.android123.com/software/vck.exe
I cannot read Chinese for anything so had to go by guess and thrashing.

The green Plus Adds video. The blue rectangle starts it. For mine, I found do not make it more than 320x240 for best results but I get the following screen clarity. Note: The picture is actually better than this. I use Meridian as my video player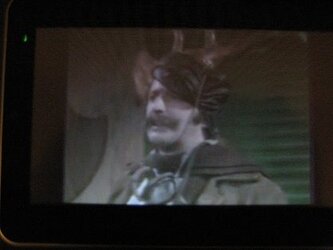 This converter works. The plus side, I can watch anything I rip to my tablet. Downside, Jerky and pausing at times. Best things to watch Anime and silent movies. Worst: High Action and movement. A 300 Mb MKV becomes a 180 Mb MP4.
Cheers and ymmv
Gurgle,
Tech stooge in the realm of the Internet