Administrator
Staff member
Post a pic or screenshot of your S7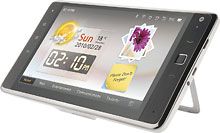 Huawei Website:
IDEOS S7 - Huawei Device Co., Ltd..
Screenshots can be taken with the root application ShootMe
Alternatively install Android SDK platform tools and retrieve it from DDMS (adb drivers are required)
Owners:
pbrauer - Minnesota, USA
efidol - Missori, USA
50cals - Nevada, USA
ivyvisors -Victoria, Australia
DaHanz - Bavaria, Germany
RudyH - Nevada, USA
Ryan5091 - Oregon, USA
dougjdavisjr - Alabama, USA
zman - ???
buzzman - New Jersey, USA
babybearsg - Republic of Singapore
xaueious - Toronto, Canada
cktan - Republic of Singapore
sopranosv - El Salvador
jhsband84 - Texas, USA
goodane - Dacia
Celtus - Midwest, USA
pvella - Melbourn, Australia
SikYou - Detroit, USA
razor950 - Florida, USA
Balcora - Australia
pedro_ - St. Albans, UK
JFer - Mexico
rob.meldrum - Edmonds, WA
Music - Northcoast, Ohio, USA
ivyvisors - Melbourne, Australia
babybearsg - Singapore
chillykim - Ohio, USA
HectorAg - Mexico
joenilan - Pennsylvania, USA
kevmueller - Kansas City, Missouri, USA
cbinks - Wichita, KS, USA
peeter111 - Los Angeles, USA
smartin - Texas, USA
themoses - Taipei, Taiwan
elf310 - Indiana, USA
morg - Georgia, USA
LoBuck - Arizona, USA
wingrider44, Iowa, USA
dgnyberg - Illinois, USA
dethanjl - Kentucky, USA
moshe5368, Mississippi, USA
Last edited: