[FONT=&quot]Hi! Just received my tablet today. Bought on ebay. I have no idea what kind it is, they don't make it very easy to identify the manufacturer, I guess that makes liability easier.
The manual says M70003 Series.
An interesting thing was, written in red on the top left of the screen when I first turned it on were the words "For Demo purposes only". But this disappeared after a bit.
It says on the back that it has an ARM processor 926. The specs from the ebay listing follow, though who knows if they are true or not (for instance: specs say android 1.5, manual says 1.6, but there is a small 1.7.2 at the lower left of the android splash screen while the unit is booting up).[/FONT]
Hardware
Performance
Processor
CPU600MHz+DSP600MHZ
Processor frequency
1.2GHz
Memory
FAST EPC DDR 128MB
Built-NandFlash
2G NAND FLASH (1.2G Available)
Expansion storage devices
TF card, Flash Drives (UP to 32GB)
LCD display
7 "TFT touch screen, 800 × 480
Touch
Multi-Point Touch Screen
Internet support
WIFI wireless Internet access to support
USB
2 X USB
Audio
Built-in stereo speakers
Battery
2700mAH, 7.4V Li-ion batteries
Power adapter
110 or 240V Input, 9V DC Output, 2A
Product Size
237mm × 125mm × 14mm
Operating system
Google Android 1.5
Games\Applications
Download large quantity of applications and games
Editing tools
QUICK OFFICE
​
[FONT=&quot]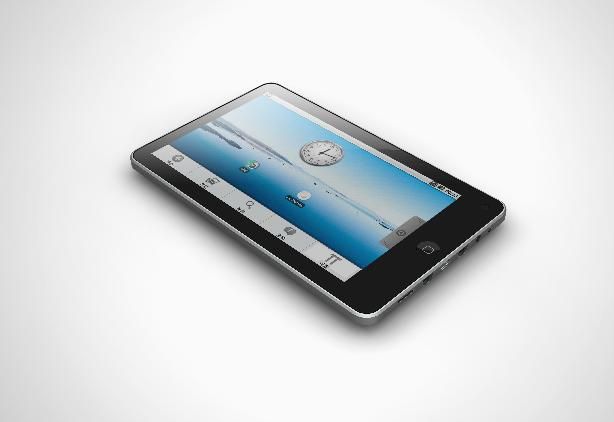 [/FONT]
​
[FONT=&quot]So, back to me now. The item looks like the photo, with two big changes immediately noticeable: First, the black painted or screened frame around the usable screen is three times wider than it looks in the photo. Second is that there is only 1 mini usb port, not two as in the description and photo.[/FONT]
[FONT=&quot]It connects fine to wifi, and the internet. And so I am beginning to learn about it. But I am having some trouble with scrolling. I have a Touch, and of course the scrolling is in another universe from that. But as I access the settings menus, and I have to scroll, putting sufficient pressure on the screen to make it scroll also selects something I don't want to select. Know how you have to try 50 times to jump the chasm, just the same damned thing over and over till you get it? Well that is the way it feels just trying to get into select your location, or change your date and time. [/FONT]
[FONT=&quot]
So question 1 is, how in the hell do I scroll this thing functionally?
I am starting to slog through the android information on Google, but I have some pretty general questions. These are basic, and I may figure things out myself, but wouldn't mind some info from savvier people than myself.[/FONT]
[FONT=&quot]Of course this comes with no install disk. So it seems as though my first responsibility is to immediately make a backup. How do I make a backup? How do I backup this thing? This is my most important and pressing question.
How do I hook this thing up to my computer?
How does one load and unload apps?
How do I connect this thing with my home wifi network?
I have iReader on two of the three home screens. How do I remove one of those two iReader shortcuts?
So, I hope to be a regular visitor here, and I am sure there will be more questions, hopefully more specific and intelligent ones, as I learn.
Thanks for any info you can help with, and if there are any questions about my unit that I can answer (the seller assured me that it was the "most newest" model), I will gladly do so.
[/FONT]