Hello all,
I won an
eBay
(UK) auction for one of these gizmos, item number 140441715039.
The only snag that I have with it is that the User Manual supplied with it isn't up to much.
Is there a better one available on-line anywhere?
My 2 main problems are that when I navigate my way through a website's Home page, for example,
eBay
(UK), to "Community" to "Discussion forums" to "The Round Table", I would like to be able to somehow save that page so that I don't have to jump through all the hoops next time I want to visit that page.
I maybe shouldn't mention this but my oldest boy has an iPad and he can make an icon appear on the iPad's home page as a direct route to any web page or web site. My ePad may be able to do the same thing but I have no idea how.
The second thing I have trouble with is the main screen. When I switch on, I end up with a screen showing the Time/Date and with a few app icons. I can swish the page left or right for a few more icons either way. On the edge nearest the big button there are 3 icons. One is a globe. One is a sort of folder and the middle one is a wierd thing that looks a little bit like a large, push button phone dial. Sometimes when I press that last one, a new screen appears with lots of what look like Apps and I would like to be able to view that screen more often but pressing that icon only seems to work now and then. Is there an easier way?
This is the screen that I want to be able to see.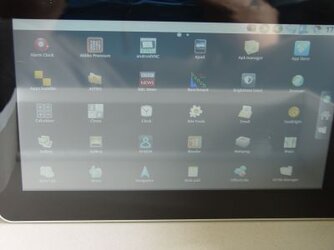 Thanks for any help, guys.
Steve