I was given a Google Android tablet (ver. 1.6) for my birthday. I've had it for about an hour, haven't even taken off the screen protector yet, and it's already apparently broken.
Apparently there were a bunch of chinese applications already installed. I went to open one to see what it was, and I couldn't understand a character. So, I hit the return button to go back to the main page, and a jumbled alert message came up.
I clicked it away, and it came up again. And again. And again.
Between messages I managed to get to the settings page and delete the application that started it, but the alert kept appearing. Eventually I reset the tablet. When it restarted, it went through the motions until it had a sort of twitch moment and it stays on this black screen with a silver, glowing "android" in the center.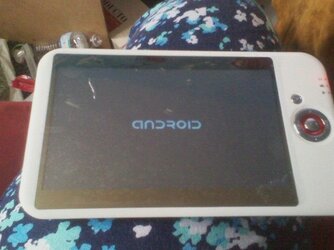 Forced shut down, same thing. Reset again, same thing.
Clearly it's busted. I don't know what I could have possibly done to cause it, since all I'd done so far was charge it and connect it to my internet access.
I've let it cool down completely and tried again, and still nothing.
Help?
Suggestions?
Get angry and demand a refund?