UPDATE: thanks to rico2001, there is an easier, more direct way to get books into the internal library. And you don't need to be rooted!


To see how click here: http://www.androidtablets.net/forum...ternal-library-root-required-3.html#post28716

See below for instructions on how to move books from the sdcard to the NookColor's internal memory, using only the NookColor (root required):
It's a convenience to have all of your books in one place. That way, you need only tap the Library button to reach them. Another nice bonus is you can then remove your sdcard without worrying about losing access. Here's a quick tutorial on how to move your books from the sdcard to the internal Nook Color memory.
Requirements
: you need a rooted NC, and a file manager that can change the read/write access of your folders (I used Root Explorer to illustrate; the steps may look slightly different in other file managers).
(1) Create a folder on your sdcard, and load it up with all your favorite books (mine are in epub format). It's probably best to do this from your PC, by connecting to your NC with the USB cable (the image below is how the folder looks on the NC).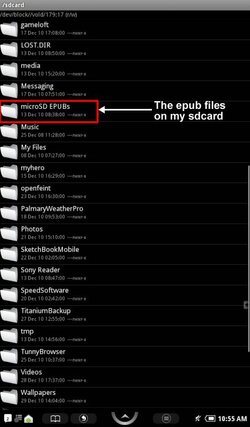 (2) Long press on the folder with your books, and a set of options will pop up. Select Copy; note that Paste and Cancel will appear on the bottom.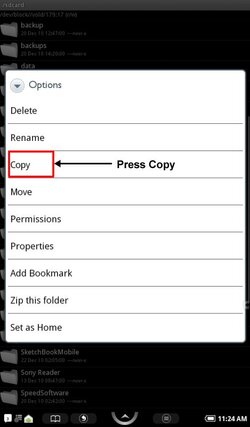 (3) Navigate to /system/media/books. Now the folder needs to be mounted as writeable. In Root Explorer, tap the Mount R/W button at the top, and the (r/o) to the left should change to (r/w). Next, press the Paste button at the bottom. Your folder should appear!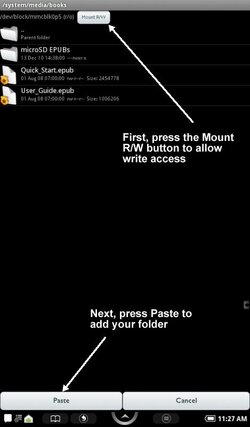 (4) Make sure to tap the Mount button again, to turn off write access to the folder.
(5) Tap the soft button above the "n" key (the circle-arrow thingie), which will bring up the menu with Library/Shop/Search etc. Select Library, and your books should be there! If not, take a deep breath,
reboot your Nook
, and they should be there!
(Post back if anything goes wrong.) Depending on how you obtained your copies, some may have their original covers.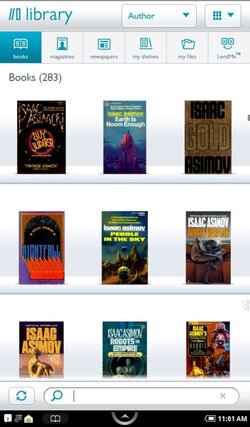 The one step that's missing is adding the cool thumbnail shortcuts to your B&N homescreen. If you longpress on a book you downloaded from B&N, one of the options is "Add to Home." Unfortunately that option isn't there for books you copy to the library. However, see note #2 below. In the meantime, here is a post by rico2001 that explains how to add the thumbnail-shortcuts to other launchers:
http://www.androidtablets.net/forum...ed-nook-color-super-e-reader-2.html#post27062
-Matt
NOTES:
(1) It's interesting to note that there is a similar directory at /media/B&N Downloads/Books. But pasting there doesn't work (even after rebooting). I assume it's due to copyright restrictions on books that are downloaded.
(2) For the truly brave, it looks like there is a way to get book covers to appear on the B&N homescreen. But it involves editing the system databases, and it is probably too risky at this point. For more info see:
[REF][ADV] The B&N Home Screen Internals - xda-developers
Last edited: