Administrator
Staff member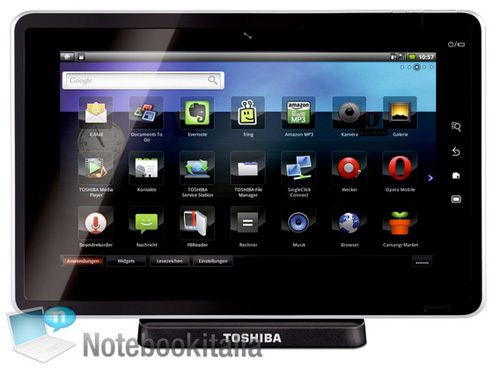 Last week there was some buzz about a Toshiba Android tablet rumored to be the Toshiba SmartPad. Today, thanks to Gizmodo we have a few more details and a new name. Toshiba's new android tablet is now thought to be called the Toshiba Folio 100. The hardware specs are impressive enough to take on any current android tablet and even most of the upcoming tablets. According to Gizmo and Notebook Italia, the Folio 100 will come with:
OS: Android 2.2
Processor: Nvidia Tegra 2
Display: multitouch display 10.1 "widescreen WSVGA (1024x600pixel)
Audio: 2 stereo speakers and microphone 0.5 W
Storage: 16GB internal memory
Networking: 802.11b/g/n WiFi, Bluetooth, 3G
Ports: HDMI, USB 2.0 standard, USB 2.0 mini audio jack
Card reader: SD (up to 32GB) MMC
Battery: 1020mAh, 3.7V, 22600mWh. Up to 7 hours of life with mixed use
Internet: Opera Mobile Browser with Flash 1.10
Productivity suite of office applications, PDF reader, ebook reader and RSS aggregator
Multimedia: 1.3 MP Webcam
Dimensions: 281 x 181 x 14mm
Weight: 760gr
Accessories: IR transmitter and housing
Now we just need to wait and see what kinda price tag Toshiba will put on this device.
Source:
Toshiba SmartPad's Specs Leak, Runs Android 2.2 And Is Supposedly Called The Folio 100