Administrator
Staff member
​
We are pleased to announce the AndroidTablets.net App. We have worked together with TapaTalk to bring you a branded version of TapaTalk Pro that works exclusively with AndroidTablets.net. This app will work fully with our site including allowing you to post, PM and more without having to pay for the full version of TapaTalk Pro. This is our way of giving back to the members of this site who have made it such a special place.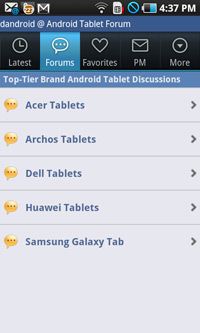 Please visit the AppBrain.com page here:
Android Tablet Forum - Android app on AppBrain
and give us a positive review if you find the app useful.
You can also download the app directly in the marketplace by searching for "android tablet forum"
If you enjoy the app giving us a 5 star rating in the marketplace would help us out immensely. We also would appreciate it if you would notify us of anything wrong with the app.
Here is a direct link to the App:
http://www.androidtablets.net/apps/androidtablets.apk
Thanks!