I had to restore my tablet to factory settings because an app I dled made everything force-close. (I can't remember which app either.)
Once I did, I re-started it once it was charged up and did almost exactly what I did the first time. I set English as the language (since it was purchased from China and everything wasin chinese) and set the time, date, and time zone, etc.
After I set up the WiFi, I typed in on the "Search" bar to onviously do a web search, and the characters were in chinese. I thought, well, maybe it'll correct itself? But when I pushed enter, Chinese sites came up.
And no matter what it is, the characters are always in chinese, though the letters on the keyboard are English letters.
What the crap do I do?!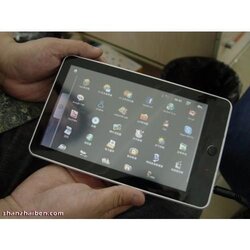 Image link is
http://img.diytrade.com/cdimg/61982..._Tablet_MID_Slate_Device_a_k_a__aPad_E700.jpg