I bought
this case at Pandawill.com
for my 7" tablet. The main selling point is that it has a mini keyboard built into the (artificial) leather case, which effectively turns my tablet into a netbook/UMPC. The best part is that, by having ACTUAL keys, now the emulator games I have on it are actually playable! An added bonus is that it's a bit wider than my tablet, which is one of the Haipad ones where the SD card sticks out, so now can leave it inserted without having to worry about it getting broken off. Unlike the ones pictured on the Pandawill site mine has a mini-USB plug, not a full-size one (yay!). I did have to take a pliers and bend the top tab so it would catch the edge of my tablet (this case was apparently designed for a slightly larger tablet than mine), but now it's VERY secure.
Here's a pic of the tablet in the new case with keyboard, next to the case that came with my tablet.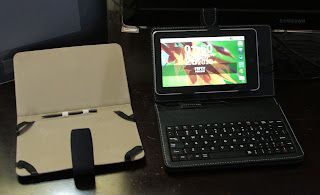 SPECIFICATIONS:
Covers: 5.5" x 9"
Thickness (closed): 1.5"
Maximum Tablet Size: 4.75" x 9" x .5"
Closure: "Leather" Tab (magnetic catch)
Material: Textured "artificial leather" (vinyl) inside and out
Tablet Holders: Vinyl covered Metal Tabs
Extras: USB Keyboard + Stylus, case has a "kickstand" on the back
Price: ~$25 USD
(They also sell it in white, and there is another version for 10" tablets).
Last edited: