Administrator
Staff member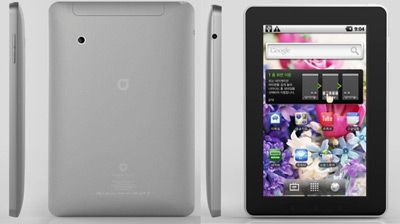 Update 1 (Video):
A video Link of the KT Tablet in Action
Update 2 (Price):
Price is actually 480000 won, or $400US.
The Identity Tab is the first Korean Android Tablet according to KT. The tablet boasts a 1GHz Cortex A8 processor, 7" multitouch screen, 8GB of internal memory, DMB TV Tuner, Gyro Sensor, 3 Megapixel camera, WiFi and SD card reader.
What do you expect to pay for all that goodness? $400 US (480000 won), corrected.
The real strangeness of the "Identity Tab" seems to be how familiar it looks... strangely similar to the
Samsung Galaxy Tab
(and not just in name either).
It seems like this is a deal too good to be true, assuming you can get one! We'll wait and see once these start trickling out.
Tons of news sources seem to be discussing this right now... and we want to hear your 2c on the matter as well. Let us know in the comments.
Another Video (Korean)
Sources 1
:
Wired
,
Akihabara News
,
Engadget
Sources 2
(Korean, thanks to
@gunplaman
):
GGGame Girl
Virgin0909
Last edited by a moderator: