Due to the rapid growth and enthusiasm of the Nook Color community (not to mention an amazing device at a more amazing price), we became the leading owner's forum (in terms of our post count, and maybe even membership size) on androidtablets.net at the end of February. A month has passed, and out of curiosity (and popular demand) I'm here to update the post-count chart again. It's impressive to say the least. As someone with a sharp eye pointed out, we currently have more total posts than all the other sub-groups in our category, combined. Maybe we can start a new chart at some point, but for nostalgic reasons, I'm adding on the latest data with our original friends from Huawei, Archos, and Samsung. My, how we've grown.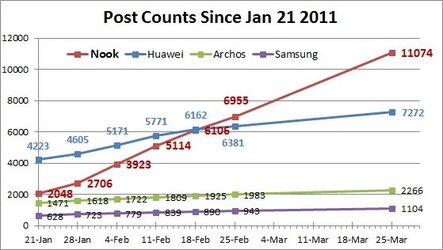 ******************************** Original Post ********************************
I've been watching the post counts on the forum main page, and noticing that in the top-tier section (
Top-Tier Brand Android Tablet Discussions
), Huawei has a huge lead, followed by us and the Archos owners (BOOOO!!!! HISSSS!!!), and then the Samsung Galaxy, far, far behind.
The count as of Friday 2/25/2010 at 7:40 PM (ET)
Huawei = 6381 posts -- Post rate since last update = (6381 - 6162)/7 = 31
posts/day
Nook = 6933 posts
-- Post rate since last update = (6955 - 6106)/7 = 121
posts/day
Archos = 1983 posts -- Post rate since last update = (1983 - 1925)/7 = 8
posts/day
Samsung = 943 posts -- Post rate since last update = (943 - 890)/7 = 8
posts/day
Wow...I can't believe my eyes...in 2 short months we've moved into the number one position. The Nook forum is truly a fabulous group of people. Congrats to every one on the amazing growth, and especially to the mods and admins for doing such a great job.
-Matt
Last edited: