Administrator
Staff member
Brief Hands-On Impressions
I tried a device (with no wifi since we didn't have the registration code), and the following are my impressions. It ran 1561, and did not have GPS.
Build quality is plastic. It does still copy the basic iPad looks. It felt light in the hand. A brief shake of the device seemed to unravel no loose parts. As there are no visible screws on the device, it does not seem very serviceable. The casing design quality is better than the APAD iRobot and Freescale iMX515 8" which I also have tested before - overall above average for a shanzhai device.
Once you enter applications, it feels pretty fast throughout the menus and for web browsing. The stock 3D launcher is noticeably slow. However, it did rotate all 4 orientations.
microSD reads without issues, also for sideloading applications. Sideloading launchers did not work, but there is a known workaround for this issue. Without wifi, I was unable to test the Android market and other applications.
Video playback works fine. Also tested were Fruit Ninja, Angry Birds, both of which ran great on the test unit.
Response is good for a resistive screen, and response well to finger touches. However, I ran a test with Dev Tools Pointer Location, and the touchscreen seemed to be sampling points quite slowly. As a result, the pointer jumps when you perform drag actions. Tapping is unaffected, and accuracy is quite good.
I experienced a power issue where the device refused to turn on, after the device ran out of battery. We had to poke the power button to start it back up. There were noticeable electronic buzzing noises (from my test unit, anyway, which was supposedly brand new).
The 10" screen was 1024x600, and had decent brightness. Viewing angles were decent horizontally, but very poor vertically. Using this as a portrait ebook reading may not be a good option.
If this device did not have it's call home registration and update 'features', it is arguably notch above Telechips TCC8902 at stock given its performance and gaming capabilities for someone who is willing to root it and remove the stock launcher. The device itself is quite viable as a retail product. The main disadvantages include support, and questionable device quality. At the right price (under $200), it is a good Android tablet for basic 3D gaming, reading, and surfing.
Information
Initially reported on Engadget China
This post has been modified to include specifications and information about the Flytouch II, which has since been released.
Product name: Gome Flytouch 2
Key features:
GPS
, dual USB, 3D support, 7", Android 2.1, HDMI, 1080P, LAN 10/100
Pictures (it168)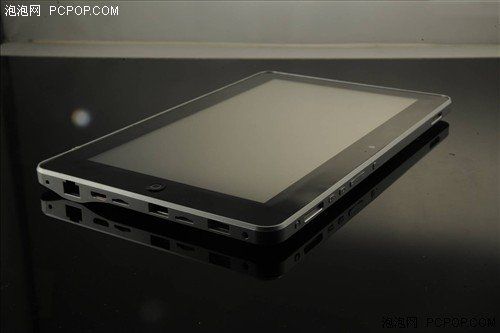 Useful Links
XDA Developers
Slatedroid Flytouch II Forums
Standard Specifications
OS: Android 2.1
Screen size: 10.1"
Touch: Single-point resistive
Standard resolution: 1024x600
CPU: Infotmic X210 ARM11 @ 800MHz
RAM: 256MB DDR2
GPS: integrated, with external antenna attachment
Networking connectivity: wifi b/g, RJ45 LAN
Camera: 1.3MP
Expansion: 2x microSD
Other: Integrated stylus slot, haptic feedback (vibration), g-sensor
Ports: USB, audio out
Charger: 9v/2.5A
Mass: 700g
Materials: Plastic
MSRP (Genuine): 1999RMB
Reference:
onderka.com » SuperPAD Hardware
Generic Variant Names
Reference: XDA developers
WOWpad
SuperPAD
APad GF10
ZH10X2
Careeror CM10104
"HyPE-Pad" bei BuyADroid
ShenZhen FirstView Electronic Co. PC1002I